What Is Medical Equipment?

Medical Equipment is a category of devices used for patients whose care is being managed from a home or other private facility managed by a nonprofessional caregiver or family member. It is often referred to as "durable" medical equipment (DME)or "home" medical equipment as it is intended to withstand repeated use by non-professionals or the patient, and is appropriate for use in home to aid in a better quality of living. At Conley's Drug Store we carry a wide range of products to maintain mobility, provide bathroom safety, and aid in everyday tasks.
Rollators and Walkers
Walkers offer sturdy support and balance for longer distances. Walkers are best for users that need stable support and walk at a slower pace. If you are mobile enough to walk instead of using a wheelchair, but have difficulty walking from your bedroom to your bathroom, a walker might be the right choice for you. A walker is also a good solution for people recovering from hip or knee replacement surgery who can't bear weight on one leg.
Rollators give you support and mobility over longer distances. A rollator is best for user's who can walk but just need a little help with balance and stability. Rollators allow you to walk at a quicker pace and help with a normal gait. The user should be able to steer the rollator and operate the hand brakes as needed. Most rollators have a seat, allowing you to take a rest as needed.
Bath Benches and Stools
According to the CDC, "in 2008 an estimated 234,094 nonfatal bathroom injuries were treated in US emergency departments. Injury rates increased with age, and most injuries (81.1%) were caused by falls. All persons, but especially older adults, should be aware of bathroom activities that are associated with a high risk for injury and of environmental modifications that might reduce that risk."Shower and bath chairs provide older adults with the stability they need for safe bathing in an area that can be quite slippery! Conley's carries everything between a simple stool for sitting down in the shower to a backed transfer bench to making it easier to get in and out of the tub.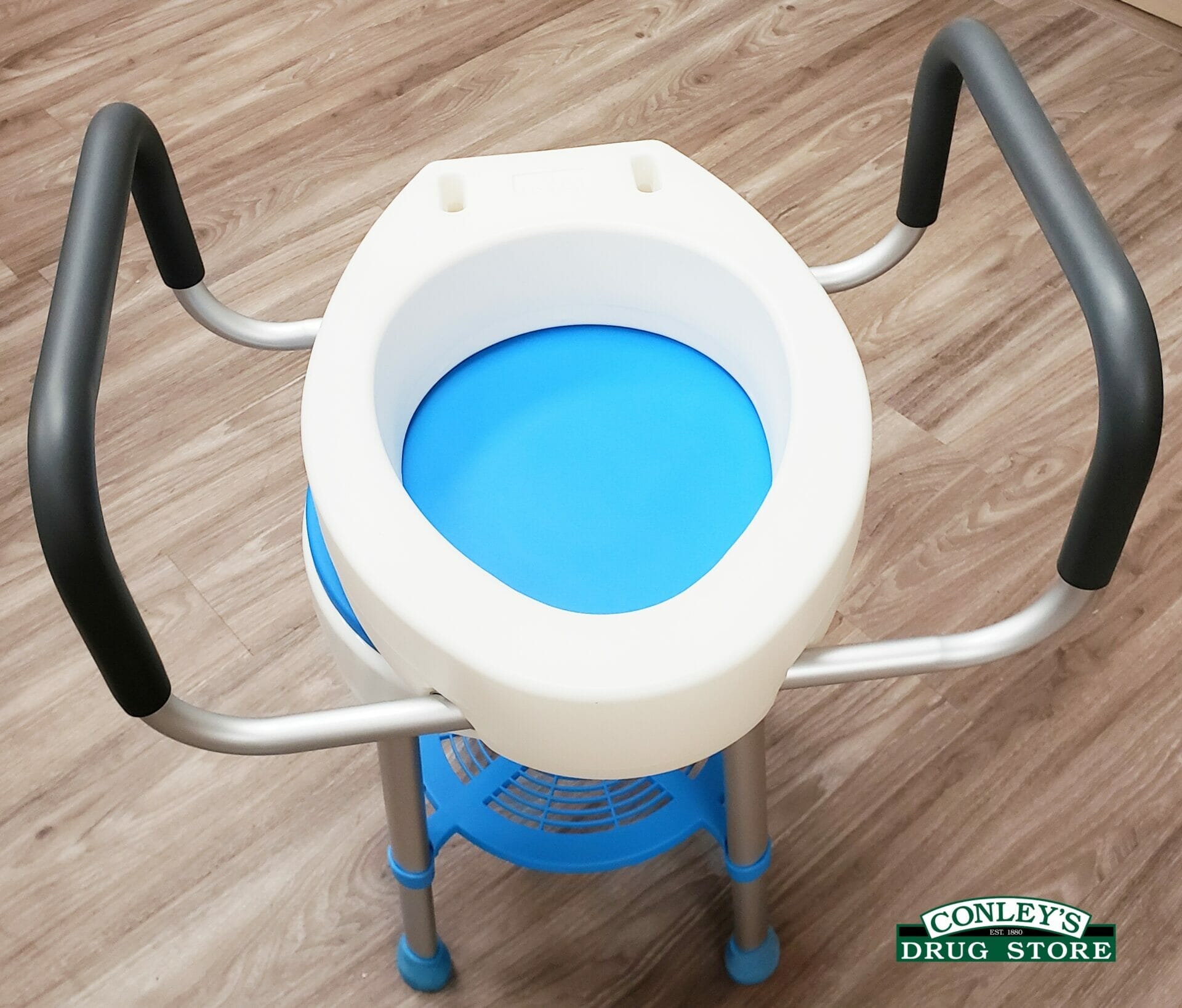 Elevated Toilet Seats
A raised toilet seat is a small piece of equipment that goes on top of a toilet bowl to increase its height. They are usually used by people who may have trouble sitting down or rising up from seats that are as low as a toilet. When going to the bathroom is difficult or physically taxing, some people intentionally avoid it, leading to other health problems, such as urinary tract infections or severe constipation. Having and using a raised toilet can be a contributing factor to maintaining one's overall health. We have seat risers to fit round and oblong bowls as well as seats with arms and toilet frames for those need additional stability support.
Aides to Daily Living
Aids for daily living (ADL)are devices that can assist people with injuries, disabilities, or the elderly with everyday functional activities. This equipment can significantly help someone with performing daily tasks such as putting on shoes, reaching things, and more. From wide handled eating utensils to dressing sticks to elongated shoehorns to door knob grippers to telescoping reachers, Conley's has devices to help patients stay independent.
Wheelchairs and Transport Chairs
A wheelchair is a chair with wheels to help people move around. It is used by individuals who have impairments that limit their ability to walk. It typically consists of a seat supported on two large wheels attached towards the back of the seat and two small wheels (castors) in front near the feet, a good braking system, and footrests. The user moves by pushing with his/her hands circular bars on the outside of the large wheels, known as the hand-rim or push rings.
Transport chairs are mobility devices that support your full body weight to relieve pain and prevent injury, similar to wheelchairs. Transport chairs in particular, however, are a more lightweight and portable option and are designed to be propelled by an attendant or companion.
We also carry knee-scooters/walkers that provide an alternative to crutches or a traditional walker as an ambulation aid.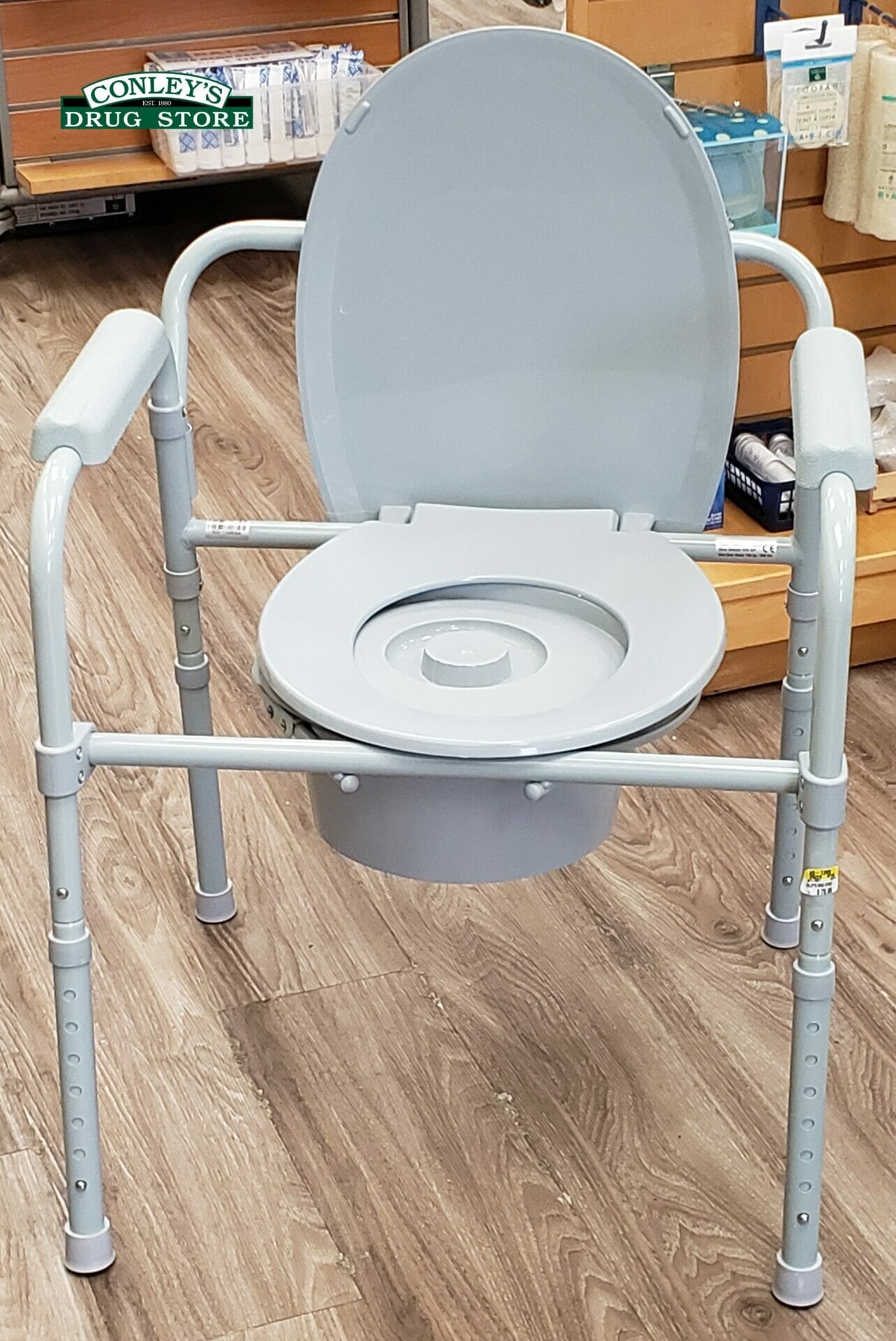 Bedside Commodes
A bedside commode is a portable toilet. When someone can't make it to the bathroom but is able to get out of bed, it can be a safe way to use the toilet. A bedside commode is a more dignified alternative to a bedpan. A bedpan is given to an ailing person while they're lying down, and most people find it difficult to use. A bedside commode uses a familiar posture and requires less energy than a bedpan. As a commode has no plumming, it needs cleaning after each use, we carry pail liners to make the task easier for caregivers. Many commodes can also function as a toilet safety frame for when a patient has recovered some mobility, but could use some support getting on and off the regular toilet.